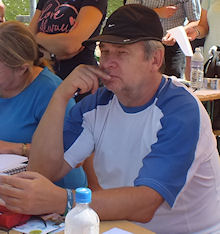 Juraj Valach doing finish registration at the Mountain Run during the Oberstdorf Shorttrack Summercamp
In memoriam J
uraj Valach
23-02-2021.
O
n Monday 22 February Juraj Valach (Slovak Republic) has passed away after 9 days of heavy suffering in hospital from Covid-19. Juraj was a Super-volunteer who dedicated his life for more then 20 years to Shorttrack Speedskating. He was one of the founders of Speed Skating in Slovakia and has been General Secretary of the Slovak Speed Skating Union. Besides competition organiser he was also ISU Competitors Steward. In this function he was working for many national and international competitions in Europe and all over the World. His last competition was the European Championships of 22-24 January 2021 in Gdansk-Poland. Juraj was for many years also one of the volunteers behind our website Shorttrackonline.info and Co-organiser of the Oberstdorf Shorttrack Summercamp. Besides the competition administration of the running seasons he processed many old competitions for the statistics in the database of Shorttrackonline. As an example: in the normal situation a competitors steward in general is doing 10 to 15 competitions in a season; In the past two seasons Juraj has processed 108 Competitions for its results and statistics on our website! We are very thankful for the great job he did for our sport of Shorttrack. Our thoughts go out to his wife Beata and his son and daughter Andrej and Alexandra.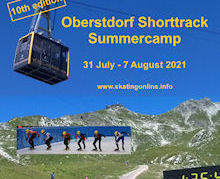 10th edition of the Oberstdorf Shorttrack Summercamp
21-02-2021. The 10th edition of the Oberstorf Shorttrack Summercamp will be held from 31 July - 7 August 2021. Participation in the summercamp and shorttrack competition is open to Juniors, Seniors and Masters. The Summercamp is NOT for beginning skaters who have to learn to skate. Entry of skaters can be done by the secretary of the club in the same way as skaters normally are entered for competitions on the website Shorttrackonline.info. The summercamp will have around 100 hours of ice time for training. Besides this a Welcome Barbeque, Mountain Run, Triathlon, a Sportive Recreational Event, a two days Shorttrack competition and a Closing dinner will be held (if Corona measures allowe it). Depending on the situation a special Corona protocol (approved by the local government) will be used in order to guarantee maximum safety.